What is Venus Raj's Major Major Problem? – The answer of Miss Philippines Venus Raj, "major, major" had been a hot topic in the Philippines and had also been a trending topic on Twitter. Many said that her answer was basically the reason why the favorite candidate to win the Miss Universe 2010 ended up just 4th Runner-Up. What is really Venus Raj's major problem which she seemed to have forgotten
When Venus Raj went to the stage to answer the question, it was William Baldwin's turn so he asked, "What was the one big mistake that you did in your life? And what did you do to make it right?"
Venus Raj answered, "You know what, sir, in my 22 years of existence, I can say that there's nothing major, major problem that I've done in my life because I'm very confident with my family, with the love that they are giving to me. So thank you so much that I'm here. Thank you, thank you so much!"
The excitement and the tension at the moment cause her to give such an answer. Venus forgot that she was stripped off the Bb. Pilipinas Universe crown before and if that was not fixed, she would not be in the Miss Universe 2010 competition after all.
Venus Raj holds the record of being the first-ever dethroned Binibining Pilipinas to have successfully attempted for a reinstatement of a Binibining Pilipinas crown. The dethronement happened a few weeks after her coronation due to alleged inconsistencies between her birth certificate and the personal account of her birth.
Upon dethronement of Venus Raj, her fans and supporters were saddened and angered. Fans immediately conducted online petitions, signature campaigns, Facebook fan pages, blogs, forums and petition letters to the Miss Universe Organization to report the irregularities. In April 10, 2010, the Binibining Pilipinas Charities, Inc. reversed their decision.
Venus has also planned to take legal action against the Binibining Pilipinas Charities, Inc.'s decision but he did not pursue this because she feared that her future career would be affected.
In a local television interview, Raj's statement if delivered during the Miss Universe 2010 would be the best answer someone could ever get. Raj said, "My fight is now more than just chasing a dream. It is about clearing my soiled reputation. It is about standing up for people who are poor and born out of wedlock. It is a fight for acceptance."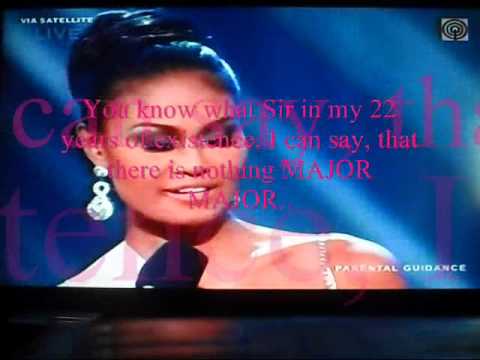 The question is a timely and apt question for her but indeed the truth that pressure surely gets in the way is also an understandable way to explain what happened. Venus Raj had proved many things and being one of the five most beautiful woman in the world is already an accomplishment.
Congratulations Venus Raj and of course to the Miss Universe 2010 winner, Miss Mexico Jimena Navarette.